Colorado Springs Art Gallery
We are a local downtown Colorado Springs art gallery known for its art showcases, events, large offerings of Colorado artwork for sale and many others from outside of it. Our gallery is a warm, intimate, showroom perfect for purchasing or viewing some of the best art in Colorado. Currently we list and display a diverse range of mediums including paintings, sculpture, sketches, mixed media, and more.
So select a few pieces for your home or enjoy our fresh and contemporary selection of art exhibits, all hand selected by our curator, because no matter what you enjoy we have it. Modern, western, impressionist, pop, rustic, or local Colorado Springs art, you'll always find something truly wonderful at the Modbo.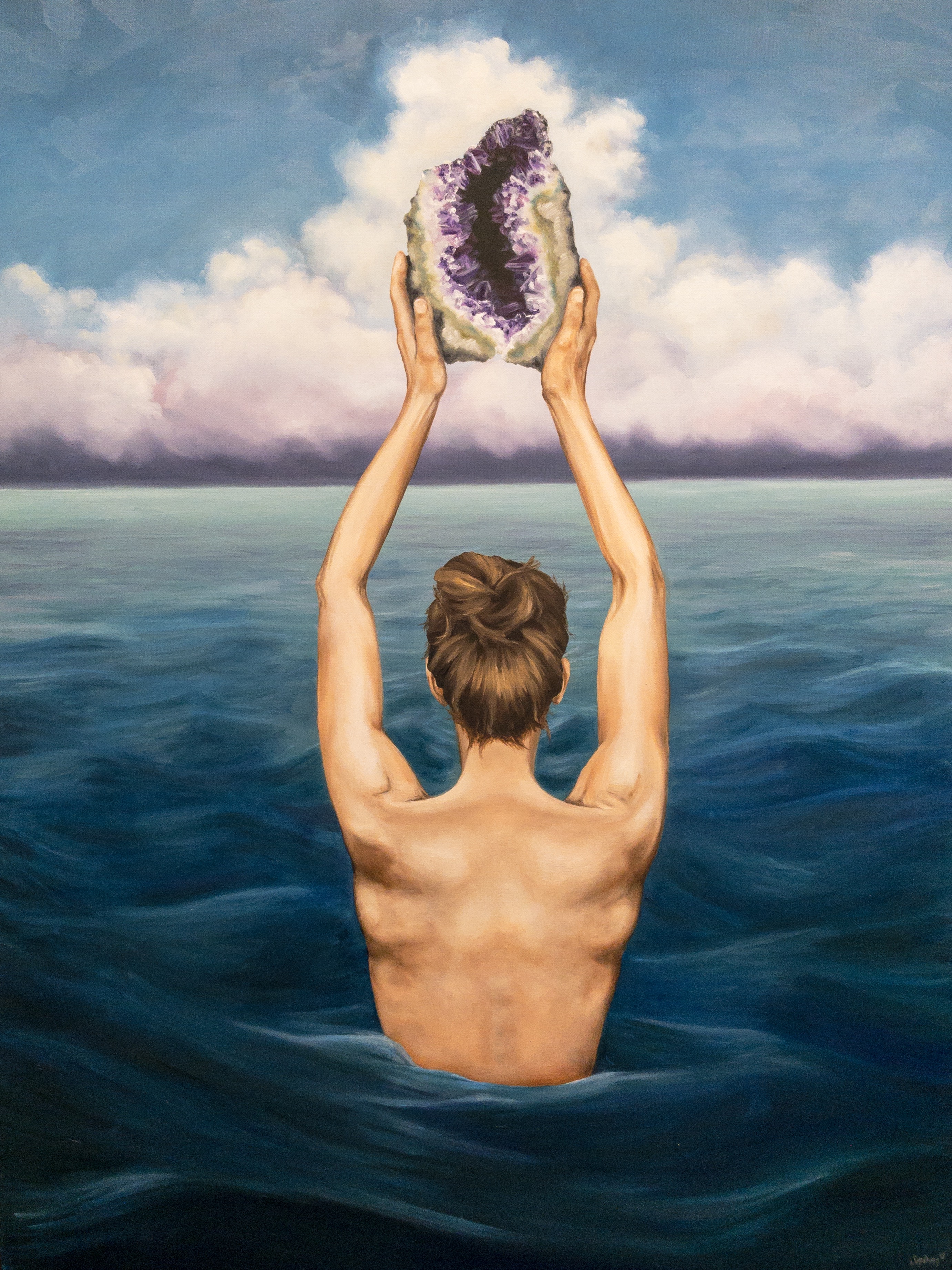 The Modbo presents August's First Friday: "The Ocean Between the Waves," new work by Shannon Dunn.  The opening reception is from 5:00 pm until midnight on Friday, August 3rd. The show runs through Friday, August 31st, and there will be a free artist's talk at 5:30 on the 31st. The Modbo is located in the Arts Alley in downtown Colorado Springs at 17C E. Bijou. Find the stretch of Bijou that is between Cascade and Tejon, and go south down the alley. Street parking is available, but The Modbo recommends the lot on Cascade just north of Bijou, which is only  $1 after 3 pm. The Modbo can be reached at themodbo@gmail.com, themodbo.com, or 633-4240. In the painting series, "The Ocean Between the Waves," Shannon Dunn explores the human experience mirrored through the metaphor of water. The same water that covers 70% of planet earth composes up to 70% of the human body. Humans have a connection with the ocean in both a physical and spiritual way. Water has the ability to both reflect and distort reality.  The ocean encompasses a host of opposites that mirror life: Fear and Fascination, Light and Dark, Reflection and Reality, Surface and Depth, Life and Death. Through this series, the artist aims to inspire the viewer to look deeper past the surface of life to see what lies beneath. A Chicago-area native, Shannon Dunn attended Illinois State University where she studied Art and Education.  Shannon's painting style is inspired by her background in printmaking and her love for stylized, simplified drawings.  Never one to stick to a single medium, Shannon paints in oils, ink, acrylic, and resin. While her work is largely focused on the human figure, she draws inspiration from the natural world, observations of social behavior and her spiritual beliefs. Shannon's work has been shown in various exhibitions throughout the Pikes Peak Region.  She currently resides in Colorado Springs, CO with her husband and two children....
The Modbo is delighted to announce a Call for Artists for its wildly popular annual Small Works Show 11, the original Colorado Springs small works exhibition! Intake is at The Modbo and SPQR, 17B and 17C East Bijou, from 10 am until 3 pm on Saturday, November 24th, 2018. All works must be under 24 inches in every dimension, including the frame. There will be a $4 hanging fee per each piece that is accepted (after a light jurying process). All pieces must be wired and ready to hang with two screw eyes or two D-rings on the back. There are no restrictions on subject matter or media, though we have limited space for 3-D/non-wallhangable work. The show will open on Friday, December 7th, 2018 in both The Modbo and its adjoining gallery, S.P.Q.R., and will run through January 11th. Questions? Email themodbo@gmail.com or leave a message at 633-4240.
Deer Dance by JayCee Beyale
$600
This striking piece by contemporary Navajo artist JayCee Beyale is available and ready to be purchased. This is an actual piece of art unlike the other actual nonsense posted in this section. Find a loving place for it in your home.
NOW that's what I call art
$150
This art is a wonderful example of art from this period of art production. Some say its the best of those arts while others reserve judgement. First painted by world renowned art guy "Arty" it has since been aged like fine wine and had a fancy frame put around it to enhance its aesthetic assault on your taste.
Description
ITEM IS NOT REAL
Birds of a Feather
$90
Put together as a tribute for the great "hair de jur" of 1890 this piece features exquisite use of water color, crayon color, and sun color, truly displaying the mastery of the artist and his wide range of talents. The authors identity remains a mystery to this day but some say it was the work of a poor farm boy in the Mississippi Delta who learned to read by way of twig bundling.
Description
ITEM IS NOT REAL
PHONE: 719-633-4240
EMAIL: THEMODBO@GMAIL.COM
ADDRESS: 17C EAST BIJOU ST, COLORADO SPRINGS, CO