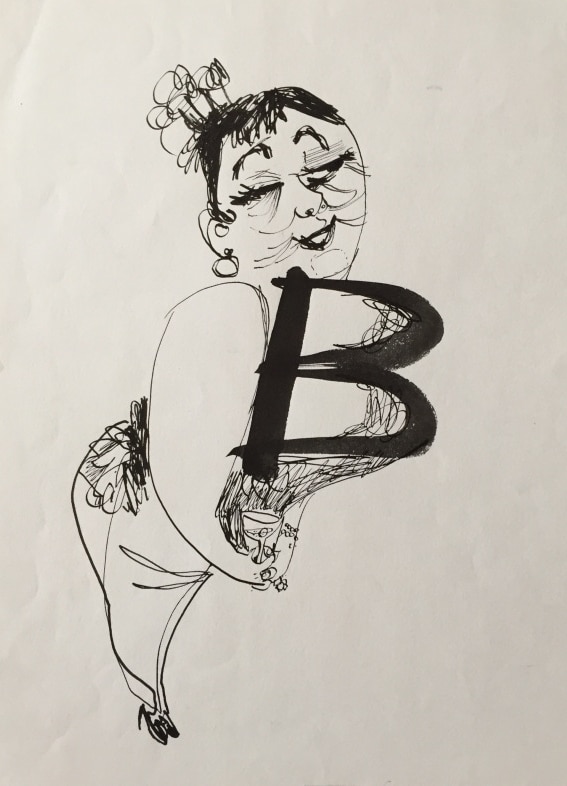 On Friday, February 3rd, 2017, the newly re-imagined Modbo gallery presents a very special First Friday.  From 5:30 until midnight, visitors are invited to see "Lew(d) Tilley": a unique cross-section of the work of the late Broadmoor Art Academy era artist. A prolific artist, Lew Tilley is known well for his BAA paintings, drawings, and watercolors.  This new show at The Modbo features a collection of his naughtier bits, so to speak.  Never before seen in Colorado Springs, this body of work includes pieces spanning from 1945 all the way through 1998. Curated by Lauren Ciborowski, who is newly the sole owner of The Modbo, this eclectic collection of nudes, "Naughty Numbers," and more is sure to delight a variety of audiences.  On Friday, February 17th at 5:30, there will be a talk led by Eve Tilley, one of Lew's daughters, as well as art expert Blake Wilson, who will share some anecdotes and history.
The Modbo is located at 17C E. Bijou Ave., 80903.  More information at themodbo.com, themodbo@gmail.com, or by calling 719.633.4240.  The show will remain open through February.
About Lew Tilley:
Lewis Lee Tilley III, painter, poet, printmaker, photographer, illustrator, watercolorist, animator, filmmaker, writer, graphic designer, computer art expert, scholar, experimental architect, actor, set designer, raconteur, gourmet cook, jazz fan and world traveler, was born in Parrott, Georgia, May 17, 1921, to the union of Margaret Wright and Lewis Lee Tilley II. Lew was an artist from the beginning.  His mother could always tell where he had spent his day by peeking in his sketchbook.  He began his professional career in 1937 at the High Museum of Art in Athens, Georgia, studying with Lamar Dodd, Jean Charlot, and John Held Jr., and came to the Pikes Peak Region in the summer of 1938 to study with Boardman Robinson, Adolph Dehn and Lawrence Barrett. Lew received his B.F.A. from the University of Georgia in 1942 and returned for the Colorado Springs Fine Arts Center Art School eventually becoming an instructor in painting, drawing, printmaking and design at the FAC School and the Colorado College.
A "migratory bird" at heart, he took his family to San Miguel de Allende, Mexico, in 1952, where he bought his first camera and added photography to his repertoire. Upon returning to Colorado Springs, he became a freelance artist, writer, teacher and muralist and photographer. This interest led to filmmaking, and from 1958 to 1962 he was writer-producer-director at Alexander Film Company.
In 1962, Tilley took a two-year tour of duty with USAID in Kaduna, Nigeria, working with the British Ministry of Education and the Peace Corps. He returned to be professor of art at the University of Southern Colorado (now CSU Pueblo) where he worked from 1965 until his retirement in 1985. He returned to San Miguel de Allende summers to receive his M.F.A. in 1968 from the University of Guanajuato, Mexico, through the University of Colorado, where he studied at the Instituto de Allende. He was also a pioneer in computer art and wrote articles and designed covers for the British publication, "Your Amiga Magazine" in the late 1980's and early '90's.
His accolades include winning the purchase prize at the inaugural Canon City Blossom Festival (the first arts festival of its kind in the country), where he completed the circle when he returned as judge for their 50th anniversary. At USC, he was voted "Outstanding Faculty Member" for 1979-1980 and also won an annual co-eds' "Male Chauvinist Pig" award. Lew Tilley died in Colorado Springs, October 4, 2005.